Most transactions fail to achieve their goals. There are many reasons for failure, but typically they fall into at least one of these categories:
Not having a clear strategic rationale for the transaction
Not engaging with and managing people effectively
Not identifying and managing the key value drivers effectively
A poorly controlled change process
However, by focusing on the four key areas below, risks can be mitigated and opportunities can be maximised with the right level of experience, insight and momentum throughout the deal lifecycle:
Evaluate – identifying the key risks and opportunities to increase your competitiveness
Execute – taking effective control of your transaction related change
Optimise – extracting the most value from your investment by challenging the operating norms
Dispose – maximising your return when divesting an asset
Deal team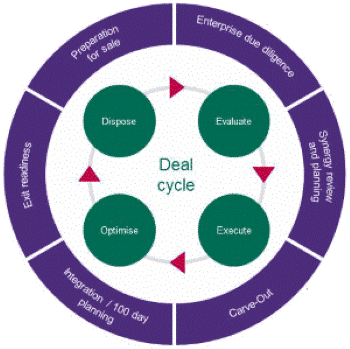 At Grant Thornton, we provide practical operational insight and advice to corporate and financial clients, to help achieve their deal goals. We are a team that understands how a business operates, bringing together sector and functional experience. We operate throughout the deal lifecycle.
Our services include;
Enterprise due diligence - quantifying the key opportunities and risks to assist buyers and vendors (vendor due diligence) assess a transaction
Synergy review and planning - developing a robust synergy case to lay the foundations for integration planning and to prepare for public reporting (if required)
Carve-out - divesting or acquiring a non-core business that has historically been integrated within a parent company, managing the operational, financial and regulatory implications
Integration - planning for and driving through the integration of an acquired business, including securing value and managing risk post-completion
Exit readiness / preparation for sale - enhancing business value through operational improvements 12-18 months before a disposal and presenting the business ready for sale.
Operational deal services
Michael Halin
Senior Manager, Advisory
Contact us