Technology and Life Sciences – We have the knowledge and skills set that your company needs during its various stages.
Phahan Kanne Government & Public Sector
In the State of Israel, there are over 38,000 societies (known by their Hebrew name "Amuta" (plural – "Amutott") and charitable corporations that belong to the...
As one of the leading specialist advisers to the construction and real estate industry, we provide seamless solutions incorporating taxation, audit and...
למשרדנו למעלה מ- 60 שנות ניסיון בענף ומשמש כרואה החשבון של מעל ל- 100 חברות יהלומנים, ביניהן חברות ישראליות רבות עם בעלי מניות זרים, מוסדות הבורסה ליהלומים:...
Fahn Kanne & Co. is one of Israel's leading CPA firms, ranked among the largest six in the country. The firm is large from the standpoint of its ability to...
Fahn Kanne Grant Thornton Israel
Go Beyond - Move forward together
Fahn Kanne & Co. is one of Israel's leading CPA firms, ranked among the largest six in the country. The firm is large from the standpoint of its ability to provide high quality professional services in a wide variety of disciplines, but it is not too sizeable so its able to provide those services with a personal touch.
The firm consists of partners and managers with rich experience in both the practical aspects of the profession and in the academic world, and is serviced by a staff of about 370 employees. The service rendered to the clients of the firm is based on an in-depth knowledge of the client's business and the environment in which they operate.
The firm accompanies publicly traded companies on the Tel Aviv Stock Exchange and foreign exchanges, as well as multinationals, private companies, local authorities, government ministries and not-for-profit organizations. The firm handles IPOs of companies on different stock exchanges and is well-known and respected by underwriters, authorities and institutional entities. Control services activities are carried out by subsidiary, Fahn Kanne Control Management Ltd. and consulting activities are handled by another subsidiary, Fahn Kanne Consulting Ltd. These firms constitute the Israeli arm of Grant Thornton's Advisory Services (AS).
The firm has branches in Haifa and Jerusalem which handle accounting services rendered to a broad variety of companies and organizations operating in those areas.
International Presence
Fahn Kanne & Co. Grant Thornton Israel is a member firm within Grant Thornton. Grant Thornton is one of the world's leading organizations of independent assurance, tax and advisory firms.
These firms help dynamic organisations unlock their potential for growth by providing meaningful, forward looking advice. Proactive teams, use insights, experience and instinct to understand complex issues for privately owned, publicly listed and public sector clients and help them to find solutions. More than 50,000 Grant Thornton people, across over 130 countries, are focused on making a difference to clients, colleagues and the communities in which we live and work.
Professional Services
Auditing and Accounting - Financial statements are an important management tool that contribute to the analytical capabilities of a company and its ability to properly evaluate the performance of the organization.
The firm operates under this approach and incorporates international capabilities, a broad business vision and high partner involvement in handling the audit of its clients. The department is staffed by experts having professional know-how and expertise that allow them to render services in accordance with Israeli accounting standards, International Financial Reporting Standards (IFRS) and US GAAP.
Fahn Kanne Control Management Ltd. is considered the leading provider of these services in Israel.
The firm has a staff of about 80 professionals, and has developed a variety of services, as follows: Internal auditing that incorporates expertise in hi-tech companies, real estate and companies operating abroad;
control services including Sarbanes - Oxley implementations; risk assessments; computerized payroll control; services in the field of information systems, including information security, Data leakage prevention, DRP, project management, system development, etc.; investigative forensic auditing which includes investigative accounting, preventative investigative accounting, which includes mapping the risks of fraud and embezzlement.
Economic and Business Consulting Services - Fahn Kanne Consulting Ltd. deals with business and economic consulting services, including valuations, fair value estimations for financial reporting purposes, transaction advisory services, mergers & acquisitions, legal opinions for use in litigation, business risk management, the government sector, infrastructures, project financing, and recovery and rehabilitation of companies.
The firm also specializes in finance, banking and insurance and has special expertise in the debt market and in compiling and operating models for use in valuations of financial instruments.
Tax and International Taxation Department - Provides comprehensive tax consulting services in all areas of taxation to a long list of clients and it has vast experience in handling complex tax issues and in accompanying transactions and investment activity in Israel and abroad.
Technology and Life Sciences Department - Specializes in supporting companies (including startups) in technology, biotechnology, biomedicine, cleantech, Internet, information systems, etc.
Incentives Department
Provides support and consulting for raising and managing domestic and international R&D grants, international tender bids and more.
Not for Profit Department - Provides professional support tailored to the complex challenges facing nonprofit organizations.
Trust, Management and Supervision Department - Services include support and supervision of monetary transfers and allocations, trustee and supervision services and management of employee stock option plans.
Diamond Department - Reshef Bezalel, Amir & Co. (Reshef), has merged with Fahn Kanne & Co. Grant Thornton Israel. Reshef is an accounting firm, specializing in the diamond industry and handling a significant part of the that industry.
Awards
Grant Thornton is an award-winning globally recognised professional services firm. Here are some of our awards: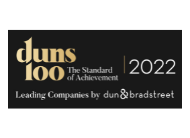 Duns 100