A new record was set last year for corporate deals
According to the annual report by the accounting firm Fahn Kanne Grant Thornton Israel, a new record was set last year for corporate deals: there were 554, representing an annual growth rate of 100%, including a 74% surge in M&As
Yoel Zafrir, Partnered with Fahn Kanne Grant Thornton
The annual deals report published by the Fahn Kanne Grant Thornton accounting firm reveals that in 2021 the Israeli deals market broke new records. Just as in developed countries in Europe, where there was substantial growth in the scope of deals, Israel also displayed considerable growth in both the number and scope of deals transacted in 2021.
This growth trend in Israeli deals parallels increases in the U.S. and select European countries, reflecting the continued globalization of the world of corporate deals.
Last year, the overall value of deals in Israel's private sector (mergers and acquisitions and investment deals) continued to show growth, reaching $36 billion. This number represents a 100% increase in the financial value of executed deals compared to 2020. In terms of the quantity of deals, in 2021 there were 554, which is 61% more than in the previous year.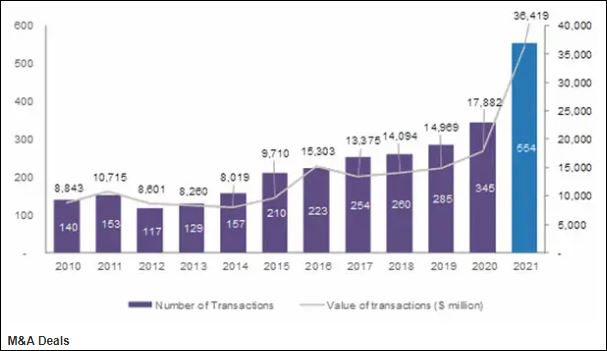 There was also a substantial jump (59%) in the number of investment deals. Investments continue to be the main engine driving the Israeli deal market, with a total of 495 investment deals reported in 2021. Mergers and acquisitions (M&As), which were badly affected by the Covid-19 crisis and shrunk by 40% in 2020, recovered in 2021, growing by 74%.
Change in exit strategy
The technology industry ended the year with 455 deals valued at $29 billion. The number of large deals ($50M-1B) grew by 120% compared with 2020, totaling 188 deals.
According to Shlomi Bartov, CPA, who is a Partner at Fahn Kanne & Co and the CEO of Fahn Kanne Consulting Ltd., the firm that prepared the report, this figure stems from a growing trend among companies to change their exit strategy. Instead of companies chasing a "fast exit," they invest in building value over the long term, and the exit only takes place once the company reaches maturity.
This approach results in a larger number of deals and higher price tags. Given the fact that the companies' increased value takes place over a long period of time through investment deals, these companies are expected to continue being involved in fundraising and exits in the next few years. Furthermore, there were seven mega-deals last year (over $1B) – three more than in 2020.
In 2021, there were 93 IPOs at the Tel Aviv Stock Exchange – an escalation of the trend that began in November-December 2020 (during which there were 13 IPOs). High price levels in Israel and around the world, as demonstrated by high multipliers and the possibility of merging with SPACs, affected the status of stock exchanges as an additional option or alternative to investment and M&A deals.
Out of approximately 250 industries analyzed in 2021 and compared with 2019, the "hottest" industries which stood out thanks to the large scope of investments (without M&A deals) are all in the high-tech sector. The leading fields in the deals market showing unusually high investment growth rates are: application software (225%), data security (234%), and software including cyber (281%).
American and Israeli investors continue to dominate
Segmenting investors in Israeli target companies according to nationality reveals that American and Israeli investors continue to be the most dominant in deals where Israeli companies were purchased – with 219 and 206 deals respectively. Among European investors in 2021, the lion's share came from the U.K., Germany, France and Switzerland.
Investors from Asia mainly were from Singapore, China, Japan, South Korea and Hong Kong.
Mickey Blumenthal, CPA, Managing Partner at Fahn Kanne Grant Thornton, added that, "just like in developed countries where there was a substantial growth in the scope of deals, Israel showed considerable growth in 2021 both in the quantity and the value of deals that were carried out.
The growth trend in the Israeli deals market in 2021 is in line with the growth rates in the U.S. and select European countries, and reflects the continued globalization of the world of deals."